LinQvue® REA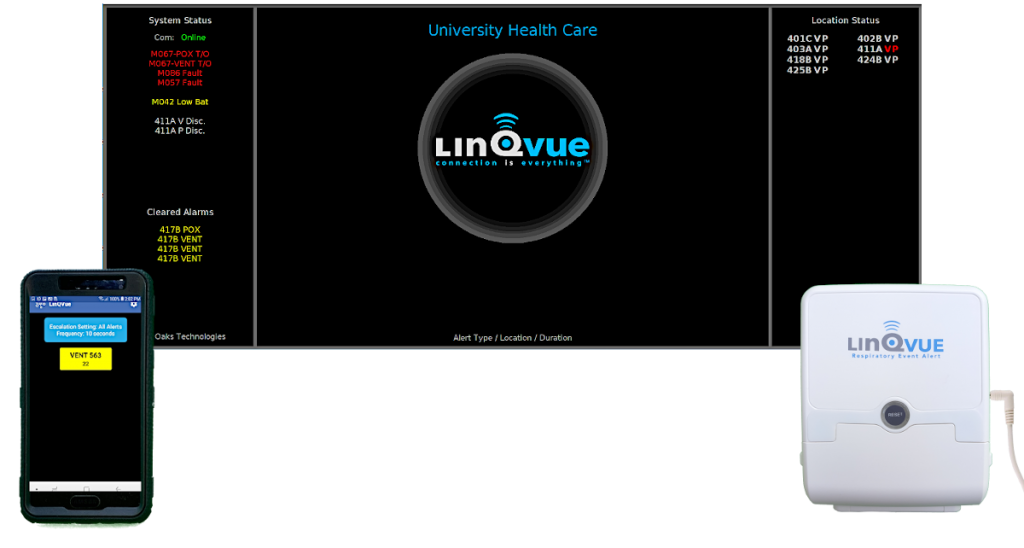 LinQvue® Respiratory Event Alert is a wireless real-time ventilator alarm annunciation and report system that displays your ventilator alarms on video monitors and mobile escalation devices to simplify prioritizing patient care.
High Visibility
LinQvue REA® presents a centralized, real-time visual overview of all ventilator patients in a ward on one or more widescreen video monitors near a nurse station or other high-visibility location.
Auto-Prioritization
The LinQvue Respiratory Event Alert system uses its proprietary technology to prioritize patient care by presenting ventilator alarms in an ordered array – with the oldest alarms given highest priority. Suitable for all kinds of nurse call cables.
User-Friendly
LinQvue REA® works with all brands of ventilators – the wireless in-room transmitters connect to the ventilator via a standard nurse-call cable. The transmitters are battery-powered, allowing for easy installation without competing for an electrical outlet.
Performance Monitoring
Hospital and post-acute administrators can use the iQ ReportsTM software to easily review staff performance and compliance, viewing both specific ventilator logs and also looking at average response times, measuring trends over time, or comparing performance at different times of day.
Reliable
Currently deployed in more than 100 facilities nationwide, LinQvue REA® is proven SAI Systems Technology that helps drive improved patient outcomes in respiratory care.
To learn more, contact us at:
855-724-7273, Ext. 31
2318 La Mirada Drive
Vista, CA 92081
Or use the form below and we'll get back to you:
---
About LinQvue
LinQvue REA® is the industry-leading wireless ventilator alarm annunciation solution. The scalable LinQvue REA® can be customized for any size facility serving patients requiring a ventilator – and can grow over time as your facility grows. Our system is designed to work with all brands and models of ventilators.
Manufactured by Twin Oaks Technologies, LinQvue's proprietary technology is currently deployed in more than 100 facilities serving more than 1,000 ventilator patients.
Twin Oaks Technologies is a manufacturer of compliance management software solutions. We seek to provide access to information to improve patient outcomes, to achieve policy compliance, and successfully complete financial initiatives.
Twin Oaks Technologies is incorporated and headquartered in Wilmington, Del., with offices in Southern California. The firm is led by Chief Executive Anoop Elgonda, a veteran of the technology industry, and Vice President of Sales John Osborn III, who has decades of experience in the medical device sector.
Copyright © 2021 Twin Oaks Technologies.